Bisoprolol: General Information and Side Effects
Bisoprolol
What Is Bisoprolol (Zebeta)?
Bisoprolol is the generic name of the brand-name drug Zebeta, which is used to treat high blood pressure.
The medicine is also sometimes used to treat heart failure.
Bisoprolol belongs to a class of drugs called beta-blockers. It works by relaxing blood vessels, slowing the heart rate, and decreasing the heart's contractility.
The drug can be used alone or with other medicines. Often people who take this drug also adopt lifestyle changes, such as following a healthy diet and getting exercise, to control their blood pressure.
The U.S. Food and Drug Administration (FDA) first approved bisoprolol in 1992. It's manufactured as Zebeta by Duramed Pharmaceuticals.
Bisoprolol Warnings
Before taking bisoprolol, tell your doctor if you have, or have ever had:
If you suffer from allergies, you should know that bisoprolol may worsen your allergic reactions. Talk to your doctor if this is a concern for you.
If you have diabetes, bisoprolol may make it more difficult to recognize symptoms of hypoglycemia (low blood glucose). Discuss this potential effect with your doctor.
Let your healthcare provider know you're taking bisoprolol before having any type of surgery, including a dental procedure.
Your doctor will want to monitor your condition closely while you take bisoprolol. Keep all appointments with your doctor's office and laboratory.
Your doctor may tell you to adopt certain diet and lifestyle changes while taking bisoprolol. Follow these instructions carefully.
Bisoprolol helps control high blood pressure, but it won't cure the condition. Continue to take the medicine even if you feel well.
Don't stop taking bisoprolol without first talking to your doctor. Your doctor might want to take you off the drug gradually, by reducing your dose a little bit at a time.
Pregnancy and Bisoprolol
It's not known whether bisoprolol can harm an unborn baby.
Tell your doctor if you're pregnant, or might become pregnant while taking the medicine.
It's also not known whether bisoprolol passes into breast milk or could hurt a breastfeeding baby. Talk to your doctor before breastfeeding.
Bisoprolol Side Effects
Common Side Effects of Bisoprolol
Tell your doctor if any of the following side effects become severe or don't go away:
Serious Side Effects of Bisoprolol
Tell your doctor right away if you experience any of the following serious side effects:
Swelling of the hands, feet, ankles, or lower legs
Unusual weight gain
Shortness of breath
Fast, slow, or pounding heartbeat
Chest pain
Fainting
Painful urination
Numbness, tingling, or cold feeling in your hands and feet
Confusion
Hallucinations
Signs of an allergic reaction (may include hives, rash, itching, chest tightness, or swelling of the face, lips, tongue, or throat)
Bisoprolol Interactions
Tell your doctor about all prescription, nonprescription, illegal, recreational, herbal, nutritional, or dietary drugs you're taking, especially:
Bisoprolol and Other Interactions
Bisoprolol may make you drowsy.
Don't drive a car or perform any activity that requires alertness until you know how this medicine affects you.
Bisoprolol and Alcohol
Alcohol may worsen certain side effects of bisoprolol.
Talk to your doctor before drinking alcohol while taking this medicine.
Bisoprolol Dosage
Bisoprolol comes as a tablet to take by mouth. It's usually taken once a day.
Take bisoprolol with a full glass of water, and try to use the medicine around the same time each day.
Your dose will be based on your medical condition and response to treatment.
Follow the instructions on your prescription label carefully. Don't take more or less bisoprolol than is recommended.
Your doctor will probably start you on a low dose of bisoprolol and gradually increase it.
Bisoprolol Overdose
Symptoms of a bisoprolol overdose may include:
Wheezing or shortness of breath
Dizziness
Slow heart rate
Anxiety
Confusion
Nausea
Sweating
Pale skin
Fainting
Seizure
If you suspect an overdose, contact a poison control center or emergency room immediately.
You can get in touch with a poison control center at 800-222-1222.
Missed Dose of Bisoprolol
If you miss a dose of bisoprolol, take it as soon as you remember.
But if it's almost time for your next scheduled dose, skip the missed dose and continue with your regular medication schedule.
Don't take extra medicine to make up for a missed dose.
Bisoprolol Pictures
Zebeta 10 mg, white, heart, film coated
Bisoprolol 5 mg-TEV, pink, round, film coated
Bisoprolol 10 mg-TEV, white, round, film coated
Zebeta 5 mg, pink, heart, film coated
Bisoprolol 5 mg-MYL, pink, round, film coated
Bisoprolol 10 mg-MYL, white, round, film coated
Bisoprolol FAQ
Q: I have tachycardia. Is Concor (bisoprolol) an effective treatment?
A: Studies show that bisoprolol is effective in treating high blood pressure by decreasing heart rate. Therefore it can be used to treat tachycardia (fast heart rate). For more information on bisoprolol, please see //www.everydayhealth.com/drugs/bisoprolol. According to standard guidelines, normal heart rate is usually from 60-100 beats per minute. It is important to take bisoprolol as prescribed by a physician for cardiovascular health. Please consult a physician prior to starting or stopping these type of medications.
Q: Can bisoprolol (5 mg) make you tired/fatigued?
A: Your question concerns possible side effects of bisoprolol (Zebeta) (//www.everydayhealth.com/drugs/bisoprolol). Yes, drowsiness, a "tired feeling" or even "extreme fatigue" are all common side effects of bisoprolol. It is always a good idea to check with one's health care provider in matters like this. Please consult your health care provider for guidance in your specific case. Gregory Latham, RPh
Q: Why do I have to take Zebeta if my heart doesn't race but just beats hard but slow thumps when I sometimes lay on my left side? The doctor didn't let me explain it. He just gave it to me, and I don't get light-headed or dizzy when it happens.
A: Zebeta (bisoprolol) belongs to a class of drugs called beta-blockers that affect the heart and circulation (blood flow through arteries and veins). It is primarily used to treat hypertension (high blood pressure). Zebeta can also be used to treat angina (chest pain), certain heart rhythm problems, and to prevent migraine headaches. Common side effects of Zebeta include dry mouth, nausea, vomiting, stomach pain, diarrhea, constipation, increased urination, ringing in the ears, tiredness, weakness, insomnia, drowsiness, dizziness, depression, anxiety, and restlessness. Your doctor is best able to properly evaluate your medical condition and make recommendations based on your specific circumstances. If you have questions or concerns about the need for your treatment, consult your doctor for help. For more specific information, consult with your doctor or local pharmacist for guidance based on your health status and current medications, particularly before taking any action. Sarah Lewis, PharmD
Q: Will taking bisoprolol for an extended period of time cause high potassium levels in the blood?
A: Bisoprolol (Zebeta) belongs to the group of drugs known as beta blockers. Bisoprolol affects the heart and blood vessels and is used to treat hypertension (high blood pressure). The most common side effects of bisoprolol include nausea, vomiting, diarrhea, decreased heart rate, and fatigue. Small increases in blood levels of potassium have been reported in patients taking bisoprolol. However, the increases were generally not significant and did not require patients to stop taking bisoprolol. Potassium is important for many functions of the body including the muscles, heart, and nerves. The normal potassium level is 3.5 to 5.0 milliequivalents per liter (mEq/L). Too much potassium in the blood can be caused by kidney problems or conditions which make potassium move out of the cells of the body. Some underlying reasons that could cause potassium to move out of the cells and into the blood include trauma, burns, recent surgery, alcoholism, and poorly controlled diabetes. Symptoms of high potassium include muscle weakness, slow heart rate, and weak pulse. If you are concerned about your medication and its effects, talk to your healthcare provider before taking any action. Your provider is best able to guide your treatment decisions and explain your laboratory results based on your specific circumstances.
Video: Bisoprolol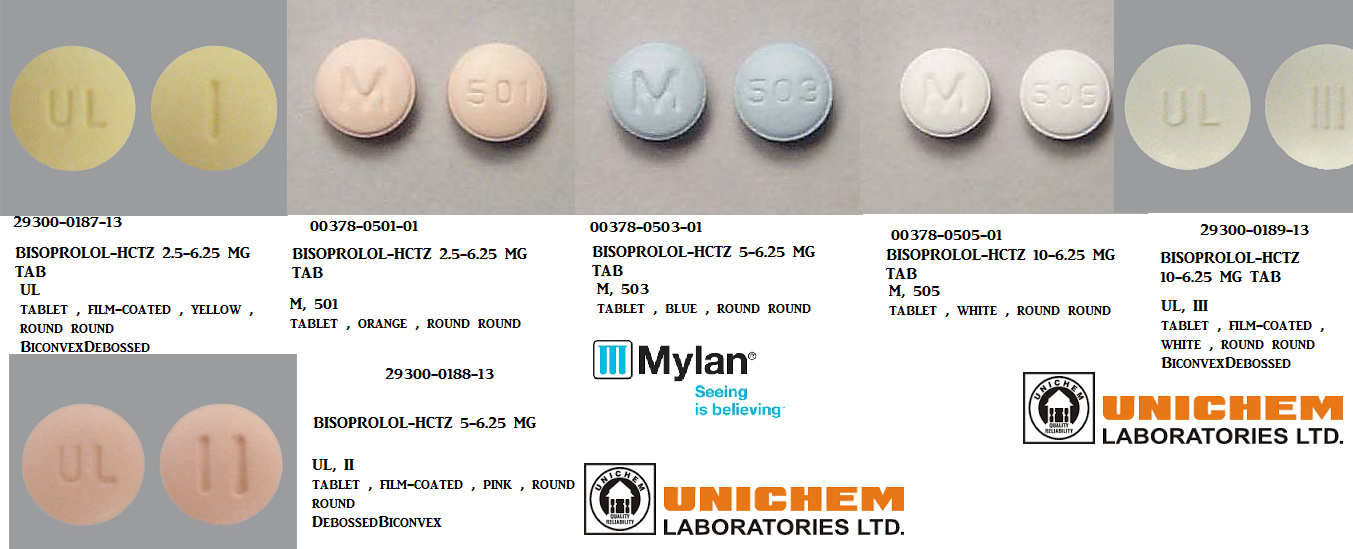 Bisoprolol images
2019 year - Bisoprolol pictures
Bisoprolol forecast photo
Bisoprolol photo
Bisoprolol new pics
pictures Bisoprolol
Watch Bisoprolol video
Discussion on this topic: Bisoprolol, bisoprolol/ , bisoprolol/
Related News
How to Enjoy Camping
MORE: What to Wear on a First Date
How to Become a Forest Ranger
US Saudi arms deal will create 500 jobs while Trump claimed 500,000
7 Home Gym Essentials To Keep You Active All Year Round
22 Must-See Spring Wedding Dress Trends
7 Best Multi-Muscle Exercises
How To Pull Off Boyfriend Jeans Like a Celebrity
27 Pairs of Summer Shoes to Stock upOn
Getting into a lawsuit with President Trump
Top Fat Blasting Workouts
Snapchat Just Made It Easier To Steal Someones Look
Meet Our Chili Cook-Off Winners
The Best DNA Test Kit for Ancestry Is 50 off for Amazon Prime Day
How Men REALLY Feel About Virtual Displays of Affection
Date: 19.12.2018, 08:01 / Views: 82435
---